NEWS
Adam Lambert Shares "Good News" — "I Am in Love"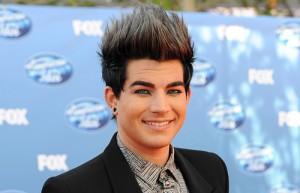 Article continues below advertisement
Adam's road post-Idol hasn't been perfect. He shared with OK!: "I think a lot of the controversies that have surrounded my experience.... I think part of the reason why they're controversies is because I don't always get to communicate my point of view or where I was coming from, and I think the special really allows me to do that."
"One of the things I find a little interesting is how much people want to focus on my sexuality," Adam explained. "To this day, I guess, I'm starting to understand it more and more — that it's just something that people find interesting. To me, it's not something I think about actively. I struggled with my identity when I was a teenager, right before I came out. That was a very hard time to deal with that.
"I've had a couple moments in my career where there's been some hiccups, but other than that I've had a pretty easy time with it," he admitted. "And it's funny how much people sensationalize it, especially in the media. But that's entertainment."
OK! NEWS: ADAM LAMBER ADMITS HE HASN'T WATCHED THIS SEASON'S AMERICAN IDOL YET
Was there anything that was off-limits in his new special? Only one thing!
"I think maybe my dating life," Adam admitted. "I've tried to keep that somewhat sacred, as far as that privacy. It's the one thing I have, you know? I think that's not uncommon. A lot of people try to keep that private, but the good news is that I am in love, so that's a good place to be. It's a great time to be making music, I'll tell you."
Article continues below advertisement
Adam says fans can expect new music starting soon: "I don't have a release date yet. Fans will be able to hear some new music in the fall. Something new is coming in the fall so stay tuned!
"With this album, I think that now that I have become a little bit more adjusted to the lifestyle, and having experienced what I have experienced over the past two years — touring and being on a tour bus and performing for fans all over the world and getting to know myself a little bit better as well — I think this album reflects that. It's more personal I think... this album is potentially more honest. It's a bit more of a reveal of who I am underneath the surface. I think people are very quick to judge a book by its cover.
"Hopefully this album will give people a little more insight into both my positive side and my negative side. Things that are really happy and joyful and things that are a little bit sad and haunting. "
For more on Adam, be sure to check out his Behind the Music special this Sunday at 10 p.m. ET.