NEWS
Adam Lambert Tells OK! He "Was Thinking About Sex" During AMAs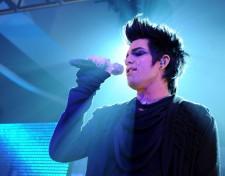 While Adam Lambert told reporters at the launch of VeVo.com on Tuesday night in NYC that David Bowie is always an inspiration to him, it wasn't Ziggy Stardust the American Idol vet was thinking about on stage during his controversial AMA performance. "Well in that moment, it was so impromptu, kinda off-the-cuff that I wasn't thinking about Bowie while I was up there," he explains. "I was thinking about sex."
Article continues below advertisement
Sex thoughts and all, Adam says he never meant to freak ABC out.
"I was just doing a number, I think people kind of overreacted," he admits, adding, " You learn. You learn from things that happen and I realize now, I'm like okay, maybe 'Ill just be more consistent with rehearsal, so if during rehearsal there's a problem, I don't piss any network off."
Eclipsing Adam in the world of celebrity scandal these days is Tiger Woods and his women, but the glam rocker doesn't think the public should focus on the golfer because of his 11 alleged affairs.
"It's funny that we all focus on peoples personal lives. He plays golf, let's focus on golf."
It's not hard for Adam to stay faithful — as he explains, even though he's famous, he's new to the dating scene in Hollywood and hasn't had to try yet. He and boyfriend of six months, Drake LaBry, broke up recently.
"People run into differences," Adam says of the split. "I'm putting a lot of energy into my career right now, it's not fair to him. Were still very good friends."
Reporting by Oliver Coleman