NEWS
Adam Levine Calls Jennifer Love Hewitt's Romantic Advances "Aggressive"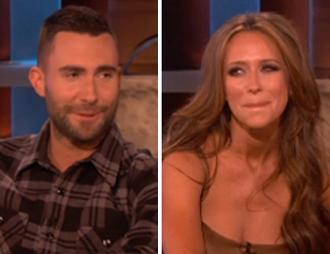 Article continues below advertisement
"There are a bunch of women who love you, including Jennifer love Hewitt. Did you hear she was actually on the show soliciting you?" Ellen asked Adam, adding, "She was saying that you were her choice."
"I feel so dirty when you say soliciting!" Adam quipped before admitting that he did hear about Jennifer's interest in him.
"That was agressive," he said, before backtracking, "It was really sweet and flattering and awesome. And you know, God, beautiful life... beautiful woman says nice things about you."