NEWS
WATCH: Adam Sandler Reveals He Plays Inappropriate Dress-up With His Daughters!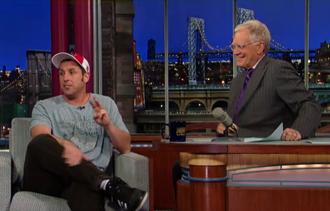 Article continues below advertisement
"Sadie, my older daughter, somehow loves to get dressed. All the time, that's all she ever does is get dressed," Adam explained to David Letterman. "We're doing well, life is well and she's like, 'I need to change my clothes.' And we're all like, 'Really? You just had that on for a half-hour, there's no reason to change.'"
"But their big deal is... I let them dress me in the morning," Adam revealed.
"Well, that answers a lot!" Dave joked.
"I let them have fun. I don't care how good I look or how bad I look," Adam continued. "Anyways, with the two kids, you got to even off everything, so I'm like Sadie you pick my shirt, Sunny you get the pants. Sadie now it's socks, Sunny you pick the sneakers. And whatever outfit they're picking out if there's one item left... you got to even it off."
OK! NEWS: TAYLOR LAUTNER WILL STAR IN GROWN UPS 2 WITH ADAM SANDLER!
Article continues below advertisement
"Like, if Sadie gets to do one and I ended on that, I got to always come up with a new thing for Sunny to do... like, 'All right, Sunny, you get to pick the condom I bang your mother in tonight,'" Adam joked as the crowd went wild.
"Well, that's a 3-year-old, she gets it! I'm sorry, I'm sorry!" Adam said to a shocked, but giggly Dave. "You know I didn't want to say that. The kid's got to learn one day!"
Watch the hilarious interview below!