NEWS
Adam Sandler Takes 'Zohan' Screening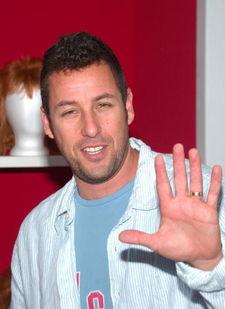 Adam Sandler gladhands with fans, signs autographs and poses for pictures during a special screening of You Don't Mess With The Zohan held at NYC's Ziegfeld Theater.
Director Dennis Dugan tells me Adam's daughter Sadie, 2, makes her big screen debut in the zany comedy.
"She rides on the goat in the end," he tells me. "As soon as she appears on set, Adam's focus goes to her. He just loves her. He got dad practice with his dogs. Now he's moved onto humans."
Article continues below advertisement
Emmanuelle Chriqui dashes through in heels, wearing a short-and-slinky black dress.
Here's Rob Schneider … and hey look, it's Jimmy Fallon – who greatly resembles Gossip Girl's Ed Westwick these days. He's got wife Nancy by his side.
Speaking of Gossip Girl, the cast is out in full force. Turns out, Matthew Settle's wife Naama – who rocks a tattoo on her forearm – has a part in the movie. She says Adam and Sadie are the perfect father-daughter duo. Watch out, Miley Cyrus!
"Sadie looks exactly like him, which was really funny," she tells me. "She's really cute."
Blake Lively's little bro-for-show Connor Paolo also schleps out for the comedy.
What's Blake really like? "Very tall, very blonde, very beautiful," he tells me. "She's taller than me, can you believe it? She's towering."
Nick Swardson is shocked Adam shaped up for the role.
"I'm surprised he could get in shape," he tells me. "He hired a Navy SEAL to train him. Adam loves food. He loves to eat. I was really surprised that he was able to discipline himself and get in shape."
One reason to buy the DVD? Lainie Kazan, 68, has a love scene with 41-year-old Adam, but it didn't make the final cut due to the PG rating.
"It was hysterical," she tells me. "He didn't take any of it seriously. He's done a good thing for us older women. He's made us look very attractive."
You Don't Mess With The Zohan is in theaters now.