NEWS
Adam Young Sings Valentine's Day Response to Taylor Swift: "I Was Enchanted to Meet You Too"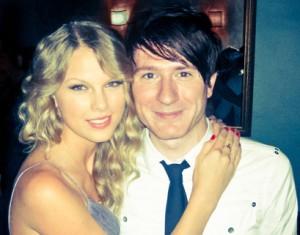 View all comments
Taylor Swift may have been touring in Tokyo over Valentine's Day, but the country cutie was given the sweetest gift ever from Owl City's Adam Young! After figuring out Taylor's song, "Enchanted," was about him, Adam sang a super sweet cover of her song in response. Prepare to swoon!
OK! VIDEO: WATCH TAYLOR SWIFTS NEW "BACK TO DECEMBER" MUSIC VIDEO!
Taylor is known for writing her songs about guys and she even includes sneaky codes in the written lyrics included in her Speak Now CD, MTV News reports. So when you decode the letters for "Enchanted" it spells out... ADAM!
Article continues below advertisement
"The track is absolutely gorgeous and I'm so tremendously honored that Taylor would write such an elegant song and thereby offer a gracious nod in my direction. Needless to say, I was lost for words and utterly smitten. I couldn't stop smiling," Adam wrote on his website on Monday. "I figured such an eloquent gesture should be reciprocated by the most polite, heartfelt and respectful response I could possibly muster. It's no secret that I'm a bit shy, so naturally music was the most articulate way of attempting such a sincere endeavor. How does one respond to such a personal outpouring of emotion and sentiment? I tossed and turned over that one."
"They say 'timing is everything' and that brings us to now. Today is Valentine's Day," he added including a photo of him with Taylor. "And thus, here is my reply..."
OK! NEWS: JAKE GYLLENHAAL & TAYLOR SWIFT HAVE ALREADY SPLIT
"Everything about you is beautiful. You're an immensely charming girl with a wonderful heart and more grace and elegance than I know how to describe," he writes. "You are a true princess from a dreamy fairy tale; a modern Cinderella. I'm terribly sorry it's taken me such a long time to reply but I figured Valentine's Day was the perfect time to write this note to you and simply say… I was enchanted to meet you too."
And in his cover of his song he sings, "And I just wish you knew/ Taylor, I was so in love with you."
Listen to the incredibly cute cover below!