NEWS
Adrian Grenier: "Anger Is A Distant Memory"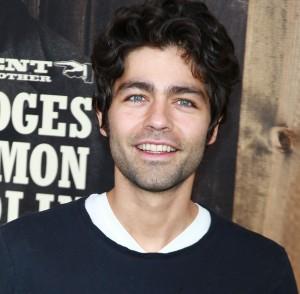 The Entourage star, 34, comes clean about his emotions in OK!'s Last Word outtakes.
Last time you lied?
Last night when I was at a restaurant and ordered the lobster. The waitress was so nice and said "how was everything?" I said "great, thank you." The truth is the lobster was overcooked and dried out, but I ate it anyway.
Last chore or errand you did?
These days, it's harder and harder to do chores. Actually, I went through a bunch of old boxes I had in storage. I was cleaning out a bunch of clutter. I'm getting rid of a bunch of VHS tapes, even though I had such a great collection and now they've become obsolete, unfortunately. I'm still having a hard time getting separated from them because they were such great choices, but they have to go. I think I'm going to take them to the library, and donate them.
Article continues below advertisement
Last dream or nightmare?
Ooh, I had a pretty gnarly nightmare last night. It was in the future, and I was the outsider. I was trying to prove myself to these more evolved creatures – these alien-type creatures. I was trying to prove myself and fit in. They were futuristic. It was scary. I don't know if it was a nightmare, but I was definitely in uncharted territory.
Last time you felt angry?
Anger is such a distant memory of mine. Anger's nostalgic now. I don't get angry anymore. I realized it was a useless emotion. Although, I do get frustrated.
Last time you were frustrated?
I dealt with celebrities a lot for Teenage Paparazzo. They can be very difficult and not return your calls or be flaky. I was a little frustrated with a couple of them.
Want to name names?
I don't think it'd be fair.
Last time you felt envious?
Envy – that's a strong one. The other day, I was out to dinner with a friend, and she ordered this dish that looked so amazing and tasted so good and mine wasn't all that great. Mine was good, but her's was really good, so I was envious of her meal.
Article continues below advertisement
I was envious of what somebody else had ordered. It's risotto with parmesean cheese and asparagus. I was watching the carbs, so I was envious of her carb abandon.
Last time you went to your birthplace of New Mexico?
The last time I went was a couple years ago, so it's been a little while. About three years ago. The dry heat and the smell of the desert immediately puts me back to distant memories of my childhood.
Last time you felt proud?
My teenage goddaughter's friends were ganging up on somebody online, and she stepped in and convinced them to be nicer and to stop. I was very proud of her for that.