NEWS
Adrian, Paris, Matt & Alex Teach Photogs a Lesson in 'Teenage Paparazzo'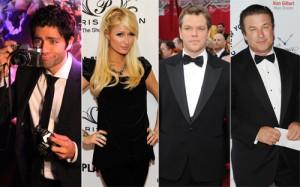 Article continues below advertisement
Matt Damon admits in the documentary that he's mostly left alone because he's "still married, still happy and still boring."
But Matt does remember his best friend Ben Affleck's encounter with the cameras.
"They'll go so far as to try and create a picture," Matt explains, "I remember Ben telling me one time right after we got famous, and he was coming out of a restaurant and the guy screamed 'I saw you with your mother at the Academy Awards and she looked like a f---ing whore.' He was with somebody who was also a celebrity at the time who was like, 'Get in the car right now,' because she saw he was gonna do something. He got in the car and was shaking."
OK! GALLERY: ADRIAN GRENIER CONFRONTS THE CAMERAS AT TEENAGE PAPARAZZO PREMIERE
And a star who's enraged voicemails to his daughter were leaked to the media has the most harsh thing to say about the paparazzi.
Alec Baldwin compared the paparazzi to "having the Empire State Building shoved up your ass one brick at a time."
But director Adrian told E! News at the premiere Tuesday night that he's now "sympathetic" towards the paparazzi.
"I tried to show the human side of both paparazzi and celebrities, so they don't look like like these lurking, dangerous, ominous monsters and I don't look like just a paycheck."
OK! GALLERY: ADRIAN GRENIER PULLS HIS OWN PAPARAZZO MOVE
Teenage Paparazzi, which OK! makes an appearance in, premieres on HBO next Monday at 9 p.m.!