NEWS
Adrienne Bailon: Kim Kardashian Should Date "Jesus" Next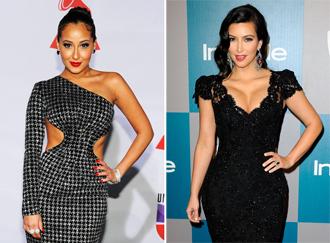 Adrienne Bailon relationship with Kim Kardashian's younger brother Rob Kardashian may be over, but she still has a good relationship with the whole Kardashian family. And, in light of Kim's impending divorce from Kris Humphries, she even has some advice on who Kim should date next!
OK! GALLERY: KIM KARDASHIAN SIZZLES IN RED TO CO-HOST LIVE WITH KELLY
OK! caught up with Adrienne at the Pom Wonderful Lounge Party hosted by Ami James at the Empire Hotel in NYC on Thursday. The actress/singer spoke on her relationship with Kim saying, "We're cool. We're like a family. If we run into each other, even if there's been some time in between, it's like just catching up with family."
Article continues below advertisement
Unfortunately, Adrienne hasn't been able to make it to one of Kim's bible sessions yet.
"I live in New York and they're doing them out in L.A." Adrienne explained. "But if I was in L.A., I would definitely attend."
Why has Kim turned to Jesus right now? "I think everybody gets to a point where they just want to reconnect with their spirituality."
And Adrienne does consider Kim to be a spiritual person.
"I think her whole family is very spiritual," she said. "I think they have faith in God. They hold to their traditions. They pray at Thanksgiving. It's just the simple things like that."
And Adrienne would know, she did date Rob after all.
"Exactly," she said.
What do you think of Adrienne's dating advice to Kim? Sound off in the comments!
Reporting by Evan Real