NEWS
Ageless Rockstar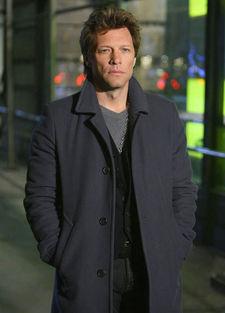 After a subway, a wrong train and a missed train, my sister,
mom and I (with little sense of direction among us), made it to Jersey
for one of Bon Jovi's ten concerts at the new Prudential
Center. They say there's not a bad
seat in the house (although I beg to differ after seeing the seats behind the
stage), nonetheless I was grateful I was able to get our seats upgraded to the
second row – from there you could almost see how flawless Jon Bon Jovi's
Article continues below advertisement
face is without looking at the giant
screen above his head.
When I met Bon Jovi about a year ago I remember having to
keep myself from staring at his perfect skin and focus on the conversation
rather than wondering what products he uses to keep it that way. When his face
was blown up on the big screen over the stage my mom asked me if he's had
botox. I told her he hadn't confided in me on his skincare regimens lately but his
face still moves, so I'll make an educated guess, no. Chemical peels maybe?
Whatever it is, I think many would be thankful for him to share the secret.
His stamina matched his age-defying appearance as he ran
around the stage for nearly two hours singing a healthy dose of classics like "Living
on a Prayer" as well as a full serving of new songs from "Lost Highway."
People often tell me I look 12. I used to attribute looking
young to genes, but maybe making a career largely centered on having fun keeps
you young.