NEWS
Aidan Quinn Says Liam is "Doing Amazingly Well"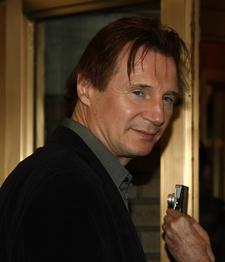 Life will surely never be the same for Liam Neeson and his two sons following the tragic loss of his wife Natasha Richardson in a March skiing accident, but, close family friend Aidan Quinn tells <em>OK</em>! that the family is "doing very well" in the face of tragedy.
"He's very grateful for all the love and support he's gotten from across the globe," Aidan said about Liam at Friday's premiere of his upcoming film The Eclipse in NYC. "He's got a great family and a great support system of friends, and they're all doing as well as could be expected under the circumstances."
Article continues below advertisement
As for Liam's two teen sons, Danny and Michael, Aidan says, "They're really doing amazingly well, considering. I think these things probably take a long time to sink in. You've got the rest of your life to take that on board... There's no timetable for it, you know."
Aidan, who attended a Knicks basketball game with Liam and the boys on April 15, tells <em>OK</em>! that he's doing whatever he can, especially for the kids. "Danny's my godchild, so I'd better be there for him," the actor explains. "And Michael means the same to me... We're very close."
The key, as Aidan sees it, for how Liam is managing to keep his family together is that "he keeps their life very, very normal. They've got school, they've got homework, they've got friends to hang out. They've got a Ranger game to go to, they've got a Knicks game to go to. I think that's very important, and that's what Tasha would've wanted. She wouldnt want them moping around. They've gotten on with their lives, which is just amazing."
Article continues below advertisement
With regard to how he keeps his family happy and together, Aidan — who is married to Sopranos actress Elizabeth Bracco, tells OK! that what's important is "being very honest and forthright, and having a strong and deep commitment to your love for each other. It's not that it's not rough. All marriages have their ups and downs and rocky parts, but you've gotta have that love underneath, first and foremost."