NEWS
Al Pacino to Dance With the Stars?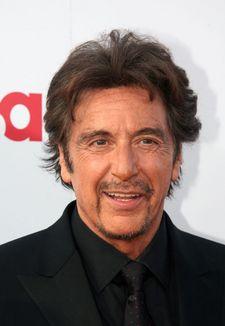 Al Pacino is clearly a man of many talents, but dancing?
"Oh come on!" the Oscar winning star laughs when asked if he would try his luck on Dancing With the Stars. "Although you know my friend George Hamilton did it and George was terrific and he enjoyed it. If I need to lose a few pounds, maybe I'll try it."
Pacino sat down with ET to discuss his latest movie, 88 Minutes. In the film, Pacino plays a character with a stalker. It's something the actor says he had to deal with early on in his career.
Article continues below advertisement
"I had a stalker in the old days when I was sexy!" Pacino tells ET in the interview, set to air tonight. "It was a bit of a nightmare, but it ended and I don't want to start it up again!"
Pacino teams up with Robert De Niro in the movie, and says working with the actor was pure pleasure. "We're very much at ease because we've known each other so long," he says. "It's fun to be with him; he's actually very funny!"
Together, Pacino and De Niro make quite the formidable team. In fact, it's easy to see how younger co-stars might feel intidmidated, but Pacino says he understands. "I can remember going on the set with Marlon Brando and he took me around and hugged me. It didn't make any difference, I was still intimidated. As a matter of fact, I became more intimidated!" he laughs.
Pacino says his 7-year-old twin sons often visit him on the set, but they're still too young to understand his profession. "They know I'm an actor, but they think everybody's an actor," he says.
For the full interview, tune into ET tonight! Check your local listings.