NEWS
Al Roker Hosts Alzheimer's Foundation of America Telethon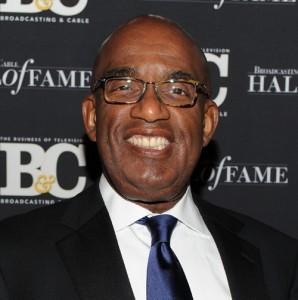 Celebrities from the music, television, film and sports worlds gathered together with host Al Roker to support Alzheimer's Disease at the first ever Alzheimer's Foundation of America telethon, airing Saturday night on NBC. Don't miss moving musical tributes from singers Shontelle, Brett Eldredge, Wilson Phillips and Kris Allen.
AFA's honorary celebrity chairman Hector Elizondo revealed that his mother had the disease and his father was her primary caregiver.
Article continues below advertisement
OK! NEWS: WILSON PHILLIPS CELEBRATE THEIR 20TH REUNION WITH "CHRISTMAS IN HARMONY"
"It was a family tragedy. We suffered in the dark. No one told us it was Alzheimer's. We found out just before she passed away," he shares. "My issue is especially with the caregivers. Since there is no cure, my issue is taking care of the people who take care. Don't turn it into two tragedies. Become informed and make sure you have a support system."
Host Al Roker reveals that his wife's mom is suffering from this disease.
"It's really hard to watch," Al says. "I don't think we are prepared for this as a country. This is a health crisis at major proportions. The one great thing about television is it's one of these things that the family does together. We're trying to make this an event that people will watch and will also get some information out of. And we've got Brett Eldredge, we've got Carl Lewis here. We've got folks from all walks of life: sports, media, music. Everybody has been touched by this. If you haven't, odds are, you're going to be. We've even got Elmo here!"
Article continues below advertisement
Today's Natalie Morales also came out to support the telethon.
OK! INTERVIEW: KRIS ALLEN IS HONORED BY LITTLE KIDS ROCK
"My mother-in-law was diagnosed with early on-set of Alzheimer's. I'm an Alzheimer's champion. The statistics are grim. More than 5 million people are affected because of Alzheimer's. More than 10 million people are taking care of them. The caregivers are the untold story. The caregivers are the ones dying first sometimes with stress, strokes, heart attacks. We are in danger of this bankrupting our health care system. It's now the 6th leading cause of death in this country. We need to be a lot more conscious of what we can do to help."
Natalie was also excited to see the musical tributes: "I love Wilson Phillips. It's great to see the girls all together again. And I'm looking forward to Kris Allen who I absolutely adore. He's such a sweetheart. He's so low-key and thank god he hasn't lost that."
American Idol alum Kris thinks that this disease is "something that is overlooked. It's a big deal. I am happy to be a part of this and I am happy to do what I can."
Article continues below advertisement
Kris says, "My cousin's grandma had Alzheimer's, it was hard on their family. And she was close to us, so it was hard on us as well. I think it's something that people forget about and that Alzheimer's is just something that you get when you're old. It's a disease and it needs to be cured. I can't imagine a really close family member having it and I pray that that doesn't happen."
OK! INTERVIEW: KRIS ALLEN IS HONORED BY LITTLE KIDS ROCK (PART 2)
Kris and his bandmate Cale Mills will perform an acoustic version of Kris' hit song, "Live Like We're Dying" for the show. "And we're going to do 'Before We Come Undone' which is going to be online," Kris reveals. "We do a nice acoustic version of it. We're also going to give the fans an acoustic version of the song soon. Maybe put it up on the website or on iTunes for free. They'll love that."
Wilson Phillips know how important awareness of the disease is. "Alzheimer's is just ravaging the nation and we don't understand. We want a cure," said Chynna Phillips. Adds Carnie Wilson, "It's a complicated disease. It's really really sad. It deals with the relationships with people that you know. We want to help raise money for research."
Article continues below advertisement
The girls revealed that they will be performing their hit "Hold On" during the show. Chynna adds, "We'll also be singing a new one from our new Christmas record, Christmas in Harmony."
The telethon will also include appearances by stars like Elmo, 30 Rock's Katrina Bowden, Scott Adsit and Grizz Chapman, Steve Guttenberg, Nikki Blonsky, Wendy Williams, Carl Lewis and many more.
For more information, visit Alzheimer's Foundation of America's Web site.