NEWS
Alanis "Hit Rock Bottom" After Break-Up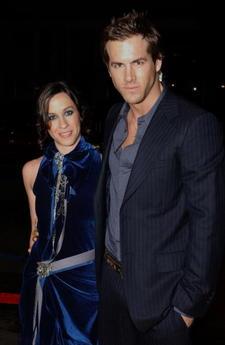 She may be happy for ex-fiance Ryan Reynolds' engagement to Scarlett Johansson now, but when Alanis Morissette parted with the actor last year, she hit "rock bottom."
"I'd hit rock bottom. Everything unraveled," Alanis tells Entertainment Tonight.
It took a while before the singer could pick herself up again, and when she did, she, of course, poured her heart and feelings out in song. Ryan doesn't have to worry about a "You Oughta Know Part 2," but a tune called "Moratorium" on the Canadian's new album, Flavors of Entanglement, in stores tomorrow, is about her epiphany that she was "not emotionally ready to be married."
Article continues below advertisement
Alanis and Ryan started dating in 2002 and got engaged in 2004. After refuting break-up rumors for a year, they announced their split in February 2007.
Ryan got engaged to Scarlett in last month.
As for Alanis, she's embarked on a new relationship as well, but don't expect her to talk about it.
"I'm gun shy about public relationships at this point," she says. "I feel great right now!"
She may not talk about her new guy, but you can bet the 34-year-old will sing about him one day!
"I write about my life. At this point if I don't write about a guy, he's probably insulted!"
For more on Alanis, tune in to ET Tuesday night!