NEWS
Alanis Morissette Says She's Fine Breastfeeding Son for Years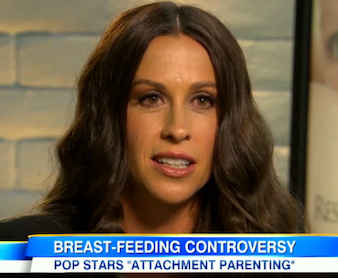 Remember the recent controversial Time cover story about breastfeeding and attachment parenting?
Well, Alanis Morissette is on that train. She told Good Morning America she's prepared for her 17 month-old son Ever to be breastfed until he's six years-old!
OK! NEWS: ALANIS MORISSETTE & MARIO TREADWAY WELCOME SON ON CHRISTMAS!
When asked about parenting which included longer time spans for breasfeeding, she responded, "I know some children who have weaned naturally at two years, some kids wean naturally a couple of years later. I mean, it's up to every child."
Article continues below advertisement
VIDEO: ALANIS MORISSETTE ADMITS HER PREGNANCY WAS A BIG SURPRISE
The rocker says she'll stop breastfeeding when her adorable son says its time to stop. When asked if he's ready to stop at five or six years-old, she responded, "Whatever he wants." Then the interviewer asked, "That would be totally okay with you as a mom?"
"Yeah," said Alanis.
Check out the interview here!