NEWS
Alec Baldwin Gets 'Complicated'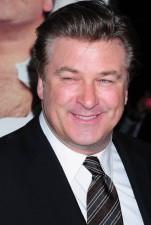 Alec Baldwin brings on-again girlfriend Nicole Seidel to his premiere of It's Complicated held Wednesday at NYC's Paris Theatre. The 30 Rock star takes it all off in the romantic comedy taglined "divorced ... with benefits," and is eager to get the word out.
"I hope people like it," Alec says. "It really is a fun movie."
Stephen Baldwin can't be more proud of his big bro.
"Listen, we're four dumb jocks from Long Island, New York," he tells me. "We're not supposed to be here. This is a lot of fun, and it's very exciting. He's on a tremendous roll at this point in his career. To win two Emmys, and a film like this certainly could put him in contention for an Oscar nomination again."
Article continues below advertisement
As Meryl Streep dashes out to greet fans, Tina Fey and hubby plus 30 Rock co-star Judah Friedlander say their "hellos" to Alec. While Oprah's BFF Gayle King talks about the practicality of living below her means, Steve Martin shuffles through wearing tortoise-shell glasses. George Stephanopoulos plays arm candy for actress wife Alexandra Wentworth. "I've never seen her so happy," George says.
Meanwhile, Lake Bell refuses to talk Tiger Woods, but she is all about her new HBO show How To Make It In America, which debuts on Valentine's Day. Of course, there's It's Complicated, too.
Hm, does she believe in getting back together with an ex?
"It's called antiquing, and I feel like it's good sometimes, and it's bad sometimes," the Narciso Rodriguez-clad stunner tells me. "If two people grow, maybe, after a really long time, maybe they can become different people. I'm a big supporter of evolution."
Marriage questions are off-limits for Tom Hanks's wife Rita Wilson -- who walks the carpet sans hubby -- during press for this marriage-divorce flick, but she's happy to chat about on-set companionship.
Article continues below advertisement
"It was like we were lulled into thinking we were working, but in fact, Nancy thinks we were working," Rita tells me. "We were actually talking girl talk and eating. The only thing missing was real life. It was like girlfriends. It really was. We've all known each other. I've known Meryl from producing Mama Mia, and I've known Ali from mutual friends. It was a great, wonderful camaraderie. And Nancy's a neighbor, so I see her in town. It's really nice."
Here's Mariska Hargitay accompanied by her super-tall hubby Peter Hermann. (He's awesome!) How does she stay fit? "Chasing my three-year-old," she laughs.
What's Alec really like?
Writer/director Nancy Meyers tells me, "He's very political, he loves the Philharmonic – he's a very big fan of the Philharmonic. He's written books, he has directed a movie. He's an actor. He's a bit of a Renaissance man."
Article continues below advertisement
And what about the rage that was revealed when his "little pig" phone message to then-11-year-old daughter Ireland was released in 2007?
"I didn't see him have a bad temper," Nancy tells me. "He was actually fantastic to work with, wonderful to direct, extremely open to direction. He's been in a lot of movies and worked with a lot of great directors, which is always very intimidating on my side because you think 'well, he just did a Scorsese movie.' But he's there for you, very present and very open."
What is Meryl really like?
"You may not know how funny she is until you see her in this movie, and she's really sexy. She's got confidence, which is a life lesson for me."
Time for the show.
It's Complicated is in theaters December 25.