NEWS
Alec Baldwin: "I Don't Have Interest in Acting Anymore"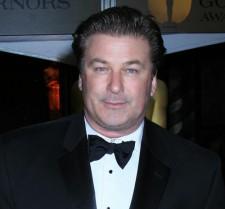 Alec Baldwin plans to end his career in showbiz. "I don't have any interest in acting anymore," the 51-year-old actor tells Men's Journal in a recent interview. "Movies are part of my past. It's been 30 years. I'm not young, but I have time to do something else."
We wonder what Alec plans to pursue? Politics? Alec plans to bid farewell to his acting career when his contract with 30 Rock expires in 2012.
Article continues below advertisement
"It's a difficult thing to say, but I believe it: I consider my entire movie career a complete failure," he tells Men's Journal. "I'll tell you why. The goal of moviemaking is to star in a film where your performance drives the film, and the film is either a soaring critical or commercial success, and I never had that."
Alec stars in the new holiday movie It's Complicated opposite Meryl Streep and Steve Martin due out Christmas day.
The Academy recently announced that Alec and Steve will co-host the 82nd Academy Awards.
"I am happy to co-host the Oscars with my enemy, Alec Baldwin," said actor/director/writer/comedian/banjo-player Steve in response to the Academy's choice co-host.
Alec fires back, with a jab at Steve's folksy instrument of choice, "I don't play the banjo, but I'm thrilled to be hosting the Oscars – it's the opportunity of a lifetime."
Article continues below advertisement
"We think the team of Steve and Alec are the perfect pair of hosts for the Oscars," said producers Adam Shankman and Bill Mechanic in a statement to the press. "Steve will bring the experience of having hosted the show in the past and Alec will be a completely fresh personality for this event."
This will be the Steve's third time as Oscar emcee; he even won an Emmy for his hosting gig at the 73rd Annual ceremony.
Meanwhile, Alec is a newbie to the Oscar-hosting gig, though was nominated for an Academy Award in 2003 for his supporting role in The Cooler.
The 2009 Academy Awards will be presented on Sunday, March 7, 2010, at the Kodak Theatre, and televised live on ABC.