NEWS
Alec Baldwin Punches 'Daily News' Photographer While Getting Marriage License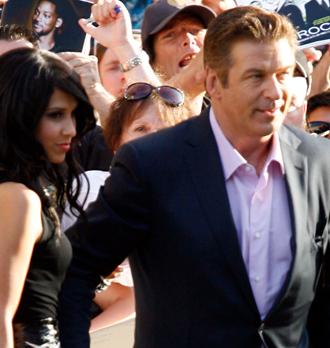 Article continues below advertisement
While Alec hopped on his Twitter almost immediately and said a "photographer almost hit me in the face with his camera this morning," those who were present at the time of the fight say it was the other way around.
"He was like crazy, you know?" said freelancer Goran Veljic to The Daily News. "There was an eruption of mad... You're going to get a marriage license, you should be happy. What happened with this guy?"
The photographers tangled in the Alec altercation also tell the newspaper they were attacked.
"He said, 'Step back, step back.' I said, 'We're moving back.'" said the photographer. "He comes after me, starts shoving and punching me — one time, right in the chin. And then he started shoving me, and pushing me. Then he goes the other way."
OK! NEWS: STEPHEN BALDWIN SAYS HIS BROTHER ALEC IS GREAT
The paper said a rattled-looking Hilaria trailed behind as her soon-to-be-husband spun out of control and frightened everyone in his path. Yikes! Not exactly a picturesque way to ring in a peaceful matrimony.
Alas, this isn't his first brush with the law. Alec punched another photographer two years ago outside his Central Park West home and was kicked off an American Airlines flight for refusing to put his iPad away.
Good luck, Hilaria!