NEWS
Alex Pettyfer Getting Bad Reputation? Producer Calls Him Cocky, But Worth It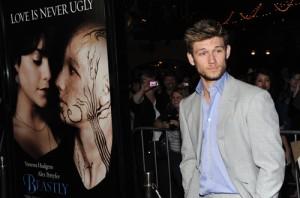 Hot young up-and-coming British actor, Alex Pettyfer, is already developing a reputation for being a bad boy. According to new reports, Alex can be difficult for directors and producers to work with.
OK! NEWS: ALEX PETTYFER'S HOUSE CATCHES ON FIRE DURING BEASTLY PREMIERE!
The Hollywood Reporter has several sources close to Alex's film, I Am Number Four, that say there was great tension between Alex and director D.J. Caruso during filming last summer. DreamWorks CEO Stacey Snider even reportedly had to intervene.
Article continues below advertisement
According to THR insiders, Alex was upset when he found out his pay of about $250,000 for the film was less than another actor and wanted to renegotiate.
And the same type of behavior was reported from the Beastly set. According to THR, Alex missed a marketing meeting for the film that left CEO Amy Baer waiting.
OK! NEWS: DIANNA AGRON & ALEX PETTYFER SPLIT — WHO'S TO BLAME?
A producer who has worked with Alex told THR, "Pick your words: ambitious, hungry, cocky, very ahead of himself. But if he delivers, he'll be worth it."
And a DreamWorks exec agrees saying, "He's turned into a great partner."
So maybe Alex is changing his bad boy ways, but then again, there are other reports about his split from Dianna Agron that don't put him in good light.
And there was just that fire that erupted at his home during the premiere of Beastly. It doesn't really get more bad boy than that!