NEWS
Alex & Simon on New "Calmer" Bethenny: "Let's Hope She Stays That Way"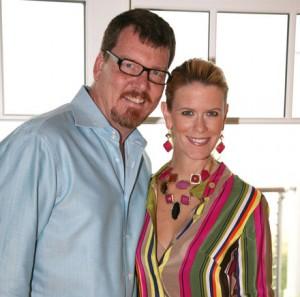 Simon van Kempen and Alex McCord were two Real Housewives of New York City stars to make the cut to attend Bethenny Frankel and Jason Hoppy's wedding, which finally aired on Bravo, and they say Bethenny Getting Married? made it look a lot more hectic than it actually was!
OK! GALLERY: REAL HOUESWIVES' JILL & ALEX HEAT UP HAMPTONS OPEN HOUSE
"It's déjà vu all over again because the wedding was in March," Alex explained to OK! while attending the Exclusive Preview Fête of Panoramic View Resort & Residences in Montauk, N.Y., on Saturday.
Article continues below advertisement
"When we were first invited to the wedding I was thinking, 'Oh no, a wedding with cameras around.' But in a way, every wedding has cameras around," Simon says. "You really didn't notice and that wasn't so bizarre."
"Absolutely," Alex agrees. "I remember at our wedding there were guests who said, 'Oh, I'm so sorry the photographer was so intrusive' or 'Oh, they were really getting in your face,' and I remember saying, 'We had no idea.'
OK! EXCLUSIVE GALLERY: BETHENNY FRANKEL & JASON HOPPY'S DREAM WEDDING
"The reaction from the episode on the blogs and so on were really positive," Simon told OK!. "I think the buildup on Bethenny Getting Married? to it was far more manic than the actual day was itself. And, honestly, I credit Jason for that."
"Jason is a very calming influence on Bethenny. His parents are adorable and have embraced Bethenny to become the mother-in-law/father-in-law-she-never-had type of thing. And that's really awesome for her," Simon added. "In real life, she's a mother. On the show, she's not yet. But falling in love, getting married and having a baby, at least one of those things in the right order, has been a real calming influence on Bethenny, who, let's face it, can be a fairly manic individual. Very driven."
Article continues below advertisement
"I remember in my youth, before Alex and I got together, dating women in their late thirties was always really difficult because they were up against the time. The sands of time and so on. They would be like, 'Oh ,I've got to find the person,' and for Bethenny that's what she was like in season one.
"With season one when it was Jason 1.0, before she got Jason version two, she was like, 'Let's move in together, let's move in together,'" he explained to OK!. "And now with Jason 2.0 she's much calmer. Let's hope she stays that way."
OK! GALLERY: BETHENNY FRANKEL BEAMS WITH BRIDAL BEAUTY BEFORE TYING THE KNOT
While some Housewives may be jealous of Bethenny's new show, Alex and Simon only have one concern.
"The show's been fantastic. If I'm concerned at all about season two for her it's that the show started on such a high with manic, huge story lines, that season two will be difficult to do to keep it up to that grade," Simon explains. "Between the love, the wedding, giving birth in a few weeks... TV time..."
But they're supporting her through her next journey — motherhood!
"We talk about babies and stuff almost every time we talk," Alex revealed to OK!. "With our book Little Kids, Big City we don't give advice. We just talk about what happened to us."
"I personally think that the smartest thing to do, and this is what she's doing, is just talk to everybody and soaking up information by hearing other people's stories," she adds. "And then fly by the seat of your pants and go with your instincts because more often than not that is correct."