NEWS
Alexa Ray Joel: Hospitalized for Suicide Attempt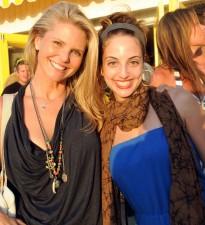 Billy Joel and Christie Brinkley's daughter, Alexa Ray Joel, has been recently hospitalized as reported by WABC in New York after a 911 call was placed from her Manhattan apartment early this afternoon and the sudden illness seems to have been self- inflicted.
After recently breaking up with her boyfriend, WABC reports that Alexa may have overdosed on a number of unknown medications leading to an urgent 911 call by her roommate.
Article continues below advertisement
According to WABC, the 23-year-old was transferred by ambulance around 12:30 PM to the St. Vincent's hospital in NYC where she is being treated for breathing problems.
Although her rep, Claire Mercuri, won't come forward with a clear reason for the hospitalization, she announced on Saturday that, "We are currently assessing her needs," according to the Huffington Post.
The young aspiring singer and pianist, who began writing music at an early age, has tried to make a name for herself in the music industry releasing a small album in 2006 and new single this year entitled "Invisible," but according to insiders at Hollywoodlife.com, Alexa has been in a deep depression for years now.
Hollywoodlife.com reports that after breaking up with her bassist boyfriend Jimmy Riot in 2006, Joel has been in a major slump even writing on her Myspace wall, "Wish I could be in a relationship again without having to date. I hate going out!"
Alexa continues on about her dejected mood according to Hollywoodlife.com, "I'm a homebody and a workaholic… I don't like going out and drinking to meet men! I always have to drag myself out the door to get up the motivation to go out, and when I do go out, I don't meet anybody."
Fortunately, Alexa is known to be in stable condition as of now, as reported by the Huffington Post.