NEWS
Alexander Skarsgård on Losing His Virginity: "Best Eight Seconds of My Life"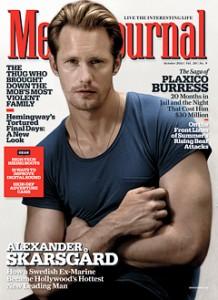 Article continues below advertisement
"That was 2008, I think," he told the magazine (via E! news). "Best eight seconds of my life."
And when asked about being named Sweden's Sexiest Man five times in a row, Alexander joked, "Every single day, I wake up and look in the mirror and think, Five times, mother****er. Five times."
OK! NEWS: ALEXANDER SKARSGÅRD SAYS TRUE BLOOD SEX SCENES "QUITE INNOCENT" IN NEW SEASON
But in all seriousness, Alexander does hope that he can be wanted for a role for reasons other than his hot body.
"You tend to get a lot of offers that are, like, the hot guy," he explained. "And those parts aren't very fun."
"I hope there's something more to me than my pecs."