NEWS
Alexandra Chando Talks Tonight's New Episode of 'The Lying Game'!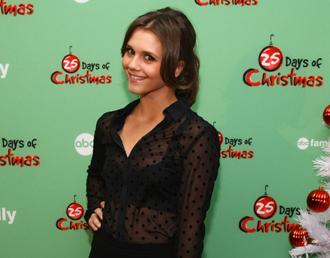 The Lying Game is back on ABC Family, and OK! got star Alexandra Chando to give us an exclusive scoop on tonight's big episode, which takes place at the country club's black-and-white ball.
"You know Sutton's back, and she is going to put a wedge between Ethan and Emma," Alexandra revealed to OK!. "It's already happening. Last week, it already started happening. She was staying at Ethan's trailer, and obviously, Emma doesn't really like that.
Article continues below advertisement
"I think Emma's insecurities may come back. As far as now that Sutton is back in the picture, she's just worried that she is going to break the two of them up. You can see on the previews that Sutton kisses Ethan, so she is kind of doing her best to drive a wedge between the two."
OK! NEWS: ERICA DASHER TALKS NEW ABC FAMILY SHOW JANE BY DESIGN & HER LOVE OF JERSEY SHORE
What else happens during the big bash? "There's an Annie Hobbs discovery; some information is revealed to her. Some questions are going to be answered, so definitely, this episode helps to clear that up," Alexandra said. "The black-and-white ball is big. Sutton is being Sutton for a lot of the episode, so she kind of paves her way.