NEWS
Ryan Phillippe's Baby Mama Alexis Knapp: Our Daughter Looks More Like Me!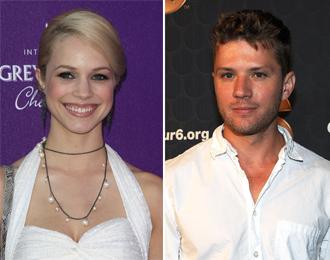 Can you believe Ryan Phillippe's daughter Kailani with ex-girlfriend Alexis Knapp is almost a year old? Well, believe it!
Alexis, who admits she "rarely goes out," attended the Chrysalis Butterfly Ball on Saturday night and chatted with E! News about her 11-month-old daughter.
OK! NEWS: ALEXIS KNAPP TWEETS A PHOTO OF HER & RYAN PHILLIPPE'S DAUGHTER KAILANI
"She actually, today, stood up and stood there for like 20 seconds," Alexis, 22, gushed of Kailani. "I was like, 'Are you going to walk?! What are you doing? What are you doing?' But then eventually she was like, 'Okay, I'm going to go down.'
Article continues below advertisement
"I think she can do a lot more than she realizes, but she's amazing and she says my name all the time," added Alexis, who will star in the upcoming comedy, Pitch Perfect, alongside Anna Kendrick and Brittany Snow.
So, does Kailani look like her daddy? Not so much...
OK! NEWS: ALEXIS KNAPP'S REP: "SHE HAS NEVER ASKED RYAN PHILLIPPE FOR ANY HELP"
When asked who her daughter resembles more, Alexis beamed, "Moi," but admitted that when she was born, Kailani looked a lot like Ryan.
"They always come out looking like the dads…because men are just like fat and puffy and can't open their eyes too much," she laughed.