NEWS
Ali Fedotowsky: How I Lost 10 Pounds Fast!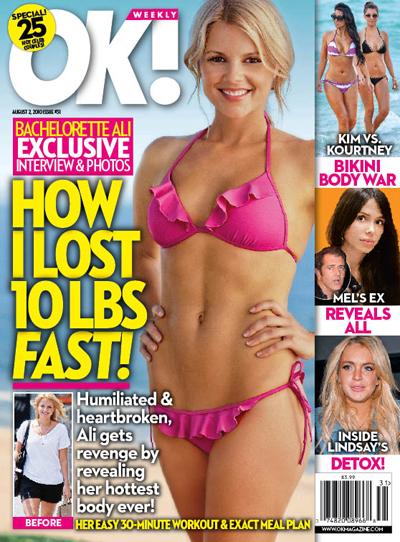 The Bachelorette: After enduring a whirlwind of emotion on this season's The Bachelorette and packing on weight, 25-year-old Ali Fedotowsky is revealing her best body ever and how she lost 10 lbs. fast! Plus, learn all about Ali's 30-minute workouts and her exact meal plan!
Kendra Wilkinson Baskett: The reality star is talking exclusively to OK! about her plans for expanding her family with husband Hank and giving her baby boy a little brother or sister to play with. Find out whether she is hoping for either a boy or a girl and whether or not hubby Hank agrees with her.
Lindsay Lohan: Get all the details inside the actress' detox before she turned herself in to begin her stint in jail on July 20. Also, find out who Lindsay is leaning on during this tough time in her life.
Best of the Week: The Mel Gibson and Christian Bale mash-ups, the hilarious videos from Old Spice guy, Javier Bardem's love for Brad Pitt, the new cast of Celebrity Rehab including Tiger Woods' ex Rachel Uchitel and so much more!
Article continues below advertisement
Plus: Jessica Simpson's new boyfriend Eric Johnson is getting to know her dad, Joe. Will he get daddy's approval? Kristen Stewart is showing off some sexy dance moves for Robert Pattinson. Mel Gibson's ex Oksana Grigorieva is revealing what she thinks of Mel in these horrifying phone tapes. Terri Seymour talks Emmy nominations with the Glee stars! What happened between Kelly Osbourne and her fiancé Luke Worrall? Masterchef's Gordon Ramsay shows how to make some great diet-friendly recipes. Lasting impressions with Jersey Shore's Nicole "Snooki" Polizzi.