NEWS
Ali Fedotowsky Opens Up to Ryan Seacrest on Finale!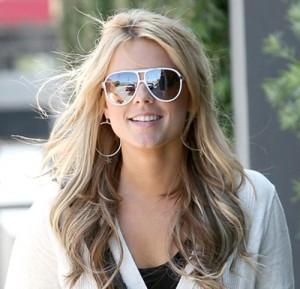 With only hours until Ali Fedotowsky's final decision is made known to the world, The Bachelorette took some time to chat with Ryan Seacrest on his KIIS FM radio show to talk about her final two prospects — Chris Lambton and Roberto Martinez!
Seems like this season — more than ever — fans of the show are very concerned that Ali will end up how she started... single!
Article continues below advertisement
The 25-year-old advertising Facebook employee from San Francisco seems to be dropping cryptic hints that she chooses no one, but maybe she is just very good at keeping a secret and taking the whole reverse psychology route!
OK! EXCLUSIVE: CHRIS HARRISON DISHES ON BACHELORETTE FINAL ROSE SHOWDOWN
"This is what happened to me," Ali explained to Ryan this morning on his show. "I know there is a lot of speculation out there, did she pick Roberto did she pick Chris? This is what I did going in: I know that a lot of the other relationships from the show haven't worked out in the past. And I was like, you know what, when I go in, if I don't find someone that I truly truly love and want to be with, then I'm not going to pick anybody. I don't want to pick someone just to pick. For me this is life. I'm the only one who has to live with the decision after this if over."
"I've always said that if I was going to fall in love with someone I could only fall in love with one person at a time. So you'll have to take that into consideration."
Ryan said he believes that Ali does not pick either of the eligible bachelors.
OK! COVER STORY: ALI FEDOTWOSKY — "HOW I LOST 10 POUNDS FAST!"
"That doesn't mean that at all," Ali responded to Ryan's prediction. "For me, I just want people to understand that my decision at the end came from such a real place. It wasn't because of the show it wasn't to make anyone happy, but me and what I thought was right. I think it was a good decision, a great decision. I'm really happy."
Regardless of her decision, Ali said she has no regrets.
For more on Ali's interview, including why Frank wasn't at the "Men Tell All" Special and debunking rumors about dating Matt Leinart, listen HERE!