NEWS
Ali Fedotowsky Ready For Marriage, Not For TV Nuptials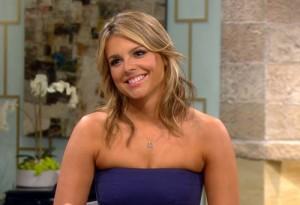 Ali Fedotowsky can't wait for married life with Roberto Martinez, but that doesn't mean she wants an audience of millions at her wedding. The former, happily-engaged Bachelorette opened up to Access Hollywood about having a wedding on TV, Roberto's romantic side and ex-fling Jake Pavelka.
"At the very beginning, I was like, 'Why not? I'm totally going to do it!'" Ali told Access about he prospect of a TV wedding.
Article continues below advertisement
"But now I've realized since I said that, that it's been like, 'Wedding! Wedding! Wedding!' and it's like, if everyone would stop asking about the wedding, maybe I'd have to time to plan the wedding," she continued. "I don't know. It's a hard decision. We just want to make the right one."
So how will Ali get her fairytale wedding without the financial help from a TV network?
"I think a lot of people who followed our story are willing to sort of help us with the wedding," Ali said. "So I think I would be able to get all of that and not necessarily have to do it on TV."
"Yeah. Friends, viewers, fans. They've been so wonderful. I've gotten so many offers to help – 'Can we do your invitations? Can we do this? Can we do that?' So I feel like I can sort of get it all done and still keep it private," she explained. "We don't know. There's a good possibility we will have it on TV, there's a good possibility we won't."
Article continues below advertisement
One thing Ali does know is she will be changing her last name.
"Are you kidding me?!?" Ali laughed. "I've been waiting my whole life to drop the Fedotowsky."
Ali is just happy she found true love and that her partner doesn't lack in the romance department.
OK! NEWS: ALI FEDOTOWSKY — SO LONG FACEBOOK, HELLO FOX!
"He's so romantic, it's insane!" Ali said of her fiancé. "I'm like, 'How do you exist? We need to clone you so other women can have men like you."
So is Ali happy her boyfriend on last season's Bachelor, Jake Pavelka, is out of the picture?
"I think Jake is a nice guy," Ali said kindly. "I just think when you're in a bad relationship, sometimes you do things you wouldn't normally do. I think he lost his temper at one point, but I do think he's a good guy."