NEWS
Ali Landry Wishes Her Ex Mario the Best, But Warns His Girlfriend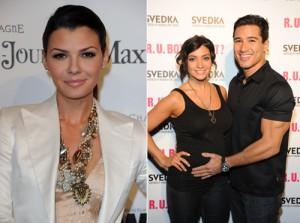 Ali Landry may have her own kids clothing line, but that doesn't mean she'll be giving any gifts to new dad and her ex Mario Lopez.
OK! GALLERY: MARIO & COURTNEY BRING THEIR BABY BUMP TO BIKINI BASH
HollyBaby caught up with Ali at her kids clothing line at the STYLE 360 Belle Parish runway show during NYC's Fashion Week and asked if she planned to send some of her clothes to new parents Mario and his girlfriend Courtney Mazzo.
Article continues below advertisement
"Probably not, no," Ali answered honestly.
Ali and Mario were married six years ago for just 18 days and it seems like Ali may still be healing.
But Ali did say she wishes Mario and his new daughter, Gia, the best.
"I wish him the best, absolutely," she added. "I just, you know, I wish from my perspective what happened to me doesn't happen to his partner."
What reportedly "happened" was Ali discovered Mario had allegedly cheated on her the day before their wedding on April 24, 2004 and then again right after, HollyBaby reports.
The marriage was annulled 18 days later, Ali married film director Alejandro Gomez Monteverde in April 2006, gave birth to daughter Estela in 2007, launched Belle Parish last year and the rest is history!
As for Mario, he's celebrating the birth of his own daughter.