NEWS
Ali Larter, Kelly Rutherford Do Gracies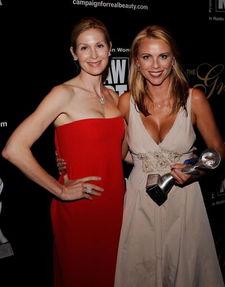 TV's most celebrated women turn out for American Women in Radio and Television's Gracie Awards held at NYC's Marriott Marquis.
How is Heroes star Ali Larter spending her time in NYC? "I love walking through Washington Square, watching people play chess," the Jersey girl says. "I love going and sitting and having a Bellini. I love walking the streets. I think it's the best city in the world."
Gossip Girl star Kelly Rutherford says gossip serves a purpose.
Article continues below advertisement
"I think so much of gossip is affirming that we're not alone," the mom of one says. "I think everyone gossips on a certain level. I think gossip has been in fashion forever, and for that reason."
What advice would she give kids who struggle with rumors?
"Don't let it affect your view of the world," Leighton Meester's costar says. "Know that you will get past school and do great things. It usually means there's a reason you're standing out. It usually means you're special. If people are gossiping about you, it usually means there's something good going on. Take it as a compliment and run with it."
E!'s Giuliana Rancic can't wait to host the event. "I'm inspired to be here with all these strong, incredible women that I wish I was like," the self-confessed news junkie says. "I can't believe I'm going to be in a room with all these women. Put Christiane Amanpour in front of me and I'm going to pass out and die. I'm getting nervous just thinking about it. It's nerve-wracking."
It turns out Oprah Winfrey is BFF Gayle King's answer to everything. "When you look at the lists, who would you like to have a lunch with? Who would you like to be stranded on a desert island with? Who would you like to do business with? Who do you most admire? Who is the most powerful? The answer always seems to be one thing, and that would be Oprah. Oprah Winfrey," Gayle says.
Article continues below advertisement
Jill Hennessy isn't worried about popping out of her slinky dress even though she's not wearing double-stick tape.
"I am nursing but I was never that bodacious to begin with," she says of her Cynthia Rowley number. "Maybe I have the small-chested woman's mentality where 'oh that's not going to happen.'"
Why do she and her hubby make a good couple?
"I don't know that we do!" she tells me. "We just sort of hang out. We've been hanging out for fourteen years now."
Brady Bunch star Florence Henderson starts out with a compliment. "Ladies, you all look about twelve years old," the onscreen mom of Maureen "Marcia Brady" McCormick says. She's thrilled to be in a New York State of mind. "I love New York! Are you kidding? I lived here for years. I started on Broadway, that's how my career began."
Suze Orman tells me she won't help celebs who are in financial trouble.
Article continues below advertisement
"When celebrities call me, and they want me to help them, I tell them I'm not their girl," she tells me. "There's plenty of people who can help you if you have millions and millions of dollars. But there's very few people who want to deal with you if you have $50,000 in credit card debt. I focus on those people, and those people only."
Who are Chelsea Lately host Chelsea Handler's favorite guests?
She counts out Padma Lakshmi, Jenny McCarthy and Leah Remini as "girls who are outspoken and don't care what they're saying." Get this! "There was one guy – the father from One Tree Hill – I went to say hello to him in the green room, and I was like 'oh my gosh, who is that guy? Forget about the interview. Let's go out for dinner.'"
Star Jones, though, makes the opposite list for most annoying. "She doesn't stop talking and has nothing to say."
Ouch!