NEWS
Ali Larter: "My Baby Laughs at My Plans"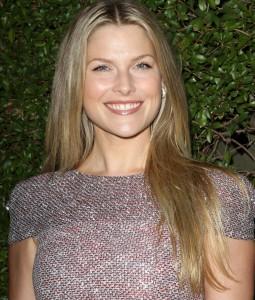 Parenthood has changed everything for Ali Larter and her actor hubby Hayes MacArthur. Their son Theodore, five months, has total control.
"It's humbling," the actress, 35, tells me during the Pampers Little Miracle Missions event held at NYC's Mount Sinai Hospital. "Everything is out of your control. I lived a regimented life, and I was working all the time and keeping a schedule. A baby laughs at all that. It's his world now, and I'm on his train."
Article continues below advertisement
Little Theodore is having a blast.
"He's laughing a lot, which is wonderful. To be able to create laughter and joy on his face is amazing. And he's rolling over. He's starting to come into this world, and it's so fun to watch."
Luckily, hubby Hayes, 34, is a hands-on dad.
"He changes diapers," she says. "He's wonderful with him, and I think of us as very modern-day parents. We co-parent, and we are excited to be able to do that."
MORE ON:
Red Carpet Confidential
For the couple who wed in 2009, the prospect of having more kids is to be determined.
"I'm so happy with him," Ali says. "We'll see. I'd love to have more children, and we'll see what our future holds."
Prior to Theodore's arrival, the couple celebrated their new life stage with a babymoon.
"I was in Ravello, Italy, with my husband when I was 3 ½ months pregnant, where I was able to swim in the Mediterranean and eat tons of pasta and cheese. It was wonderful."
Ali is enamored with little Theodore.
One thing she wishes she knew before her son was born?
"Never leave your baby," she says with a laugh. "Like most mothers in this country, working moms … you have to go back to work. But it's very, very difficult. The love is greater than anything I've ever felt."
Here's my pic with Ali:
Participate in Pampers Little Miracle Missions, which delivers acts of kindness to babies and their families, while encouraging parents, friends and family to "pay it forward" and support others.