NEWS
Ali Vincent's Biggest Loser Blog: Is Being Home a Reality on TV?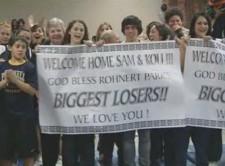 Each week, Biggest Loser champ Ali Vincent brings you her unique perspective on the show — only on Okmagazine.com!
Is being home really real when you are still on a reality TV show? I always feel for the contestants when Biggest Loser surprises them and sends them home for a week.
I get the purpose and the thought process behind it, to see if they can still live the Biggest Loser lifestyle while taking in the considerations and demands of life at home.
Article continues below advertisement
And although all the contestants are usually dying to be home and can't wait to hug and hold their loved ones, there is so much added stress that would not necessarily be there if they were home for good. A week is a week, and often it is hard to try and spend the quality time with everyone and share all your stories while having the pressure of Biggest Loser workouts in the back of your head.
OK! NEWS: ALI VINCENT'S BIGGEST LOSER BLOG — WHO'S GOT THE ADVANTAGE?
Even once you are eliminated you are still on the Biggest Loser path until that Finale passes. A path which requires endless hours in the gym. It was important to me to try and find as many activities as I could to involve my family and friends and still get my calorie burn for each day. Often that included every spare moment possible outside of work to be in some type of class or just flat out logging hours in the gym.
Article continues below advertisement
ALI VINCENT'S BIGGEST LOSER BLOG — BLUE VS. BLACK: BRUISING COMPETITION
Sure, some of my family members and friends would hop on a machine next to me to share some time but that was not reality. The reality is waking up in the morning to find, as Sam did, your mom making a breakfast filled with bacon and biscuits and gravy or wanting to spend some time with your friends and as we saw Ashley experience, ending up in one of your favorite restaurants in days past with your friends ordering everything you use to love to eat. I know all is meant well, but getting your family and friends on board takes time just like it did for each person who has ever been on the Biggest Loser campus. What didn't start in a week doesn't end in a week.
ALI VINCENT'S BIGGEST LOSER BLOG: TAKING THE GOLD!
Can you imagine finding a huge crate in the middle of your living room? I know that whenever there is a package that is labeled the Biggest Loser we are all in store for something fun!
We saw this season weigh-in front of their loved ones, now we are going to see them show their loved ones the first thing they walked into on the Biggest Loser campus, marathon mileage on a bike. I can only imagine what everyone one of them most have been thinking: "You want Daris to do what? Ride 26.2 miles, are you kidding me?" Or, "Mike can't do that, he has bad knees"; "You don't understand, Ashley is the makeup type a girl, she doesn't like to sweat!" Well, family and friends, let us introduce you to the people you thought you knew…. ready? Set? GO!
Article continues below advertisement
ALI VINCENT'S BIGGEST LOSER BLOG: THE IMMUNITY GAME
Talk about a good race to the finish for everyone, because none of the contestants had any idea how many minutes could possibly been added to their times based on whether or not cupcakes were eaten in their name. I like how many of the contestants took the honorable road and just played it straight! I felt for Lance with Melissa sitting there convincing him to eat all those cupcakes — I guess you can take the girl out of the game but based on results you can't take the game out of the girl. The energy just continued to build as the miles passed, it was a race till the end and Koli, well honey, you feel like taking me shopping?
This week's weigh-in was one of surprises and honestly Black team, you killed it. Ashley and Sam, good for you for finding the strength and balance to create your biggest results yet while at home! I guess that goes to show all of us where there is a will, there is a way.
That gets me thinking, if the intention is clear, does the environment or mechanism really matter?
Since becoming the first female champ on The Biggest Loser, Ali has found a new life as a motivational speaker and author. Her new book, Believe It, Be It, is currently available at bookstores everywhere. For more, be sure to check out her Twitter page and her personal site.