NEWS
Ali Vincent's Biggest Loser Blog: Blue vs. Black — Bruising Competition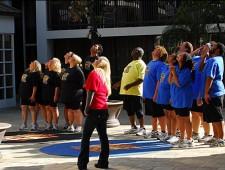 Each week, Biggest Loser champ Ali Vincent brings you her unique perspective on the show — only on okmagazine.com!
Blue vs. Black... Is it a coincidence that those are the colors that make up bruises? This is probably my least favorite part of every season when the teams are created. I hate the way that it seems to bring out the worst in everyone. I know there are a lot of different opinions out there in regards to how people play the "game" part of the Biggest Loser, and of course I have one too.
Article continues below advertisement
I think the Biggest Loser ranch is a sacred place and I also know that on that ranch there are so many emotions running rampant. As a contestant you want nothing more than to stay as long as you can, because in any given moment there is so much information to soak up and so many breakthroughs that are taking place. There gets to be a feeling deep inside your soul that constantly has you wondering: "Would I be able to create this at home?"; "Would I have found out that piece of information if Jill hadn't shared it with me?" or "Would I have known the question to ask?"
ALI VINCENT'S BIGGEST LOSER BLOG: TAKING THE GOLD!
As a former contestant I have to admit I don't know, because it wasn't my reality. As the first eliminated contestant to ever win the Biggest Loser I also have to admit that where there is a will there is a way. Trying out for the show is sometimes for many of us contestants the first acknowledgment of "will" and in turn the ranch is our first experience of the "way." I am a testament as many former contestants are that there is a "way" to do it at home but with that said I will also be willing to stake my left toe on the fact that not one of the contestants that has been sent from the Biggest Loser ranch wasn't scared sh!*less!
Article continues below advertisement
So let the GAMES begin! I know many viewers at home must be thinking, "How in the world did anyone participate in that Temptation?!" Well you could take the stance that if no one had participated, it wouldn't have happened. With that said it, is also human nature to want to control your destiny. I was LUCKY never to have had to experience the Black vs. Blue part of the Biggest Loser. But the truth is when it comes to team eliminations it doesn't matter if you pulled a good percentage of weight loss or not, what matters is if you are in the "in" clique of your team or not. Because unless you have the highest percentage of your team, you are up for possibly being eliminated!
ALI VINCENT'S BIGGEST LOSER BLOG: THE IMMUNITY GAME
I don't blame Michael for wanting to put himself in the best possible situation he could imagine, by stacking his team to hopefully always stay out of the elimination room. You have to keep in mind that almost every contestant of the Biggest Loser has never fully and completely felt part of any "in" clique in their life. There was always something that even I, as the high school cheerleader and the girl people wanted to date, to later in my life being the"big" girl, felt that made me feel separate and different. I have since realized that a lot of those feelings came up due to abandonment issues I felt as a kid of divorce, and feeling displaced often in my life, but it doesn't change that fact that I never really felt as if I completely fit in.
Article continues below advertisement
I was proud of Michael for speaking up in the gym after Jill went off because honestly I don't think I would have had the courage to do the same. Even Jill had to admit that he was right in that fact that what Bob and Jill try to get through our (the contestants) thick heads, is that it is okay to think of ourselves first — in fact it should be mandatory!
I personally don't agree that in thinking of yourself first you have to set up others to lose, but as I showed in Season 5 and the Black team showed us in this episode, it doesn't matter if the odds are stacked in your favor or not, what matters is the HEART!
CONGRATULATIONS BLACK TEAM! You ALL really showed what it means to be the Biggest Loser, thank you from the bottom of my heart.
I hope that this season will change the course that the Biggest Loser seems to show every season that it is not in fact coincidental that Black and Blue are the colors of a bruise. People will do whatever it takes to ensure their place on the ranch.
I don't know what the weeks ahead of us have in store but I hope and I wonder: Will this be the season that doesn't create bruises?
Until next week,
Ali xo
Since becoming the first female champ on The Biggest Loser, Ali has found a new life as a motivational speaker and author. Her new book, Believe It, Be It, is currently available at bookstores everywhere. For more, be sure to check out her Twitter page and her personal site.