NEWS
Ali Vincent's Biggest Loser Blog: Let the Sunshine In!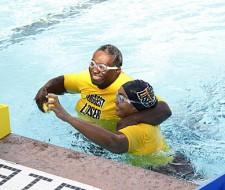 Each week, Biggest Loser champ Ali Vincent brings you her unique perspective on the show — only on Okmagazine.com! This is the week the sun will shine! Another opportunity to play the game, win immunity, stay on campus, or get sent home!
There is always a twist on campus with another opportunity to win immunity this week.
I like how the Biggest Loser always knows when to pull which cards, which between you and I is really amazing since the Biggest Loser is considered a game show, versus a reality show because there is a cash prize at the end. With that said, they have to have the whole season of twists and turns pre-planned before each season starts.
Article continues below advertisement
ALI VINCENT'S BIGGEST LOSER BLOG: BEAUTIFUL VICTORIA!
From the beginning Melissa has been playing the "GAME" part of the Biggest Loser; which, by all means, is fine if that is how you choose to play. However this week I got a little upset with how vocal she was, behind closed doors — meaning interviews, mind you — about how these contestants still don't get it. Get what, Melissa? Contestants don't step on campus for the cash prize they step on campus to learn how to take control of there lives. At this point I think there is only one contestant left on campus who just doesn't get it!
All you can truly control is you and what you do. There are no alliances or game play which will guarantee you a spot on campus. The only way to do that is to stay above the yellow line and occasionally win immunity.
I love how this week the Biggest Loser brought that thought process to the forefront of each contestant's conscious thoughts. The opportunity to win immunity by being the first person to lose two percent of their total body weight truly brings the real meaning of the Biggest Loser back to reality. It doesn't matter how fast you are in a challenge or how many questions you answer right in a quiz, what matters is how much weight you lose each and every week. So the race is on to see who hits the buzzer first. Everyone has the opportunity — may the strongest buzz in first!
Article continues below advertisement
I think Sunshine is really showing herself this week and really grounded on her wins. Although she, as everyone else, has the chance to ring in on that buzzer she is coming up to her under 200-pound mark which is a huge win for anyone who has been above it. It is a celebration like no other to say goodbye forever to being that weight or higher. She is showing the strong, capable, beautiful WOMAN that she is and has been, but hesitant on embracing. It's important for all of us to communicate with our loved ones that we are okay and we need to stand on our own — not alone, but on our own to really embrace our strengths.
ALI VINCENT'S BIGGEST LOSER BLOG: WHO'S GOT THE ADVANTAGE?
The challenge this week was a showcase of the feelings in the house. I just think that although the contestants may not dislike Melissa, they just don't want the game play that comes with her. So if anyone is going to get a one-pound penalty, it's not going to be one of their "friends" or group that has been on campus together. So guess what, Melissa? That is what all against one feels like... doesn't feel very good, does it?
Article continues below advertisement
Sam kills it with the buzzer…. Okay brother you only had to lose six pounds — but 10?!? You are an ANIMAL!
ALI VINCENT'S BIGGEST LOSER BLOG: BLUE VS. BLACK — BRUISING COMPETITION
When all is said and done, a one-pound penalty doesn't make a difference. Melissa is at the bottom of the line or shall we say, below the yellow line, and would have been there even without the one-pound penalty.
I will say, the fight is in Melissa regardless, and you have to admire that. Most contestants in Melissa's situation would have thrown in the boxing gloves and exited gracefully. Melissa did what Melissa does best, make an argument which was a really good one — if the house was full of game players. But it isn't, so sorry, Melissa, we will just have to see you at finale! And trust me I will not be surprise if you or Lance doesn't take home the at-home $100,000.cash prize.
ALI VINCENT'S BIGGEST LOSER BLOG: TAKING THE GOLD
Just remember: No matter what you two have already won, remember I was there interviewing you that first day on campus and you were not in a great space as a couple. I have loved watching you guys come back together because that is what the Biggest Loser is all about, don't you think?
Until next week,
Ali xo
Since becoming the first female champ on The Biggest Loser, Ali has found a new life as a motivational speaker and author. Her new book, Believe It, Be It, is currently available at bookstores everywhere. For more, be sure to check out her Twitter page and her personal site.