NEWS
Ali Vincent's Biggest Loser Blog: The Week One Bloodbath!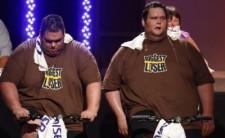 Each week, Biggest Loser champ Ali Vincent brings you her unique perspective on the show — only on OKmagazine.com!
WEEK ONE:Five contestants gone, just like that!?? I can't believe it is the start of another season. The Biggest Loser just seems to be getting bigger and better every season, but is that really a good thing?
I love the stories that each of the contestants have the courage to share, mostly because I get to hear from you the reader or fan of the show how you relate to one contestant or another on some level.
Article continues below advertisement
Most of us have someone in our life that reminds us Ashley or Stephanie, the girl who has such a beautiful face, or Daris or Michael, the funny guy or friend that everyone always wants to have around, or Sam or Koli, the jock that was always encouraged to just put on the weight to hold the line and win the game.
When though was the last time each of us stopped to talk to them and ask them what they really want in life? Or tell the truth ourselves about what we want in our life?
This season as we watch another cast of the Biggest Loser contestants make the impossible possible, let's do the same!
Set a huge goal that scares you silly. For me, I have committed to do the Boston Marathon. I don't know if your goal will be a weight loss goal, a relationship goal, a career goal or a fitness goal but it MUST scare you even to actually just voice it.
Once you have committed and voiced your goal, set a plan of action and tell everyone you know. The more people you tell the more people you have looking out for you and ways to help you create your goals. As we watched this week the contestants for the first time ever weighed in — in front of their family, friends, and neighbors — talk about scary!
Article continues below advertisement
You may not stand in front of everyone you know in your sports bra and biker shorts (which I doubt even Kim Kardashian would look good in) but check-in to where you are at and tell the truth as to where you want to go. You must know where point A is before you can ever get to point B. Be committed to your goal, NOT what it's "supposed" to look like.
Once you have figured that out — like the contestants on the show, what are you going to do when life throws you a curveball?
We all know it's bound to happen; it's just a matter of when. I doubt that this season any of the contestants had any idea that two teams would be eliminated before they even saw inside the ranch. I mean, come on! I would have been right there with the yellow team of O'Neal & Sunshine and the blue team of Cherita & Victoria.
My mother and I were in last place for our first challenge — I just about died when Alison Sweeney said "the last two teams to finish the challenge of cycling 26.2 miles would be eliminated and asked leave the Biggest Loser campus immediately."
Article continues below advertisement
I know for a fact NO NONE saw that coming, talk about a setback. I have faith that each of them will do amazing at home and get back for their chance on campus.
The dreaded part of each week is the elimination, I have to tell you guys it is HORRIBLE to be forced to pick a person you barely know from another so it makes it easier when someone steps up to go home. Although I often wonder if that is part of their "stuff" to step up and be the one sacrificing the opportunity.
Good luck James; I know that John will miss you and America looks forward to seeing you as the cuter twin : )
Until next week — And if you do nothing else this week, just start writing down everything you eat and do!
xo,
Ali
Since becoming the first female champ on Biggest Loser, Ali has found a new life as a motivational speaker and author. Her new book, Believe It, Be It, is currently available at bookstores everywhere. For more, be sure to check out her Twitter page and her personal site.