NEWS
Alicia Keys: "I'm Not a Conspiracy Theorist!"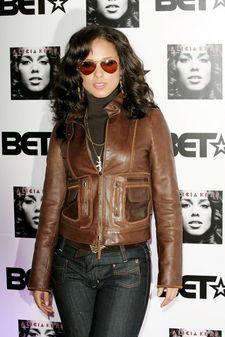 In response to a rather explosive interview she gave in the new issue of Blender magazine, Alicia Keys is speaking out about some of her comments in the article.
In a statement issued Tuesday, Keys said she was clarifying "comments that were made during my recent Blender magazine interview since they have been misrepresented."
According to the interview in the magazine's May issue, the 27-year-old singer/songwriter said, "'Gangsta Rap' was a ploy to convince black people to kill each other. 'Gangsta Rap' didn't exist.' " She is quoted also as saying that she proudly wears a gold AK-47 pendant around her neck "to symbolize strength, power and killing 'em dead."
Article continues below advertisement
"We stand by our story," Blender spokeswoman, Kate Cafaro told the AP on Tuesday.
But Keys says her remarks were printed out of context.
"My comments about 'Gangsta Rap' were in no way trying to suggest that the government is responsible for creating this genre of rap music," she said. "The point that I was trying to make was that the term was over-sloganized by some of the media causing reactions that were not always positive. Many of the 'Gangsta Rap' lyrics articulate the problems of the artists' experiences and I think all of us, including our leaders, could be doing more to address these problems including drugs, gang violence, crime and other related social issues."
Keys says AK-47 is a nickname given to her by friends "as an acronym for Alicia Keys and a metaphor for wowing people with my music and performances, 'killing 'em dead' on stage. The reference was in no way meant to have a literal, political or negative connotation."