NEWS
Alicia Keys Swears Off Fast Food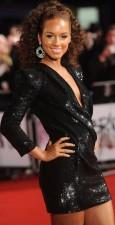 We'll never catch Alicia Keys chowing down at McDonald's, Wendy's, Burger King or Taco Bell.
The Grammy winner, 30, works too hard maintaining her figure with myfitstream.com creator and president Josh Zitomer, who also trains celebrities including Jessica Simpson, Eva Mendes, John Mayer, Bono, Tobey Maguire, and Common.
The Empire State of Mind singer despises an abdominal exercise he prescribes called "The Ab Test."
Article continues below advertisement
"I can't even describe it, it's so awful," she says.
Josh tries, saying, "Lay down on your back, draw your knees towards your chest. Put the palms of your hands on the side of your head near your ears. Crunch up and touch your knee caps with your elbows. With your feet off the ground, elbows touching your knees and shoulder blades off the ground, roll into a ball. The key is to keep your elbows on your knee caps. Once in position, the trainer holds and pulls on the knees. It's isometric."
But the New York native, whose tour kicks off Sunday in Montreal, can't get enough of running.
"It makes me feel strong and builds my mind strength," she says.
According to Josh, changing up her fitness routine is essential.
"The key is making sure you don't use the same cardio over and over again," he says. "Use the bike, treadmill, rowing machine. It also prevents injury."
In this interview, Alicia gets candid about her diet regimen, fitness routine, thoughts on cleanses and why she never eats fast food.
Article continues below advertisement
Psst…this is what you won't find in Alicia's Body and Soul feature in the OK! on newsstands now. "Ali & Jake's Secret Reunion is the cover line."
What keeps you motivated the gym?
Great music always works for me. It depends on how I feel. I listen to MGMT, Biggie, Jay-Z, mixes that I make, Bob Sinclair, even Roy Ayers. I like a variety, and it depends on the weather and my mood.
Best diet and fitness tips?
Don't overdo it. Do what feels natural, because a little bit consistently will make you more productive than barely doing a lot. And stay motivated, do new things. It'll stay fresh and fun.
What are your weaknesses food-wise?
Delicious, warm soft bread is an indulgence of mine. I can't have dairy so it limits a lot of what I can indulge in.
Favorite healthy foods?
I love making fresh almond milk, love grilled fish, love aloe vera in my drinks. I've loved spinach ever since I was little. I love all kinds of food, but I love food that makes me feel good afterwards.
Article continues below advertisement
What inspired your healthy eating habits?
I've been a healthy eater for awhile. My friend's father had this incredibly candid conversation with me about food when I was about 12 and that changed everything.
I love Harley Pasternak's 5-Factor Diet book. And have implemented a lot of that into my lifestyle.
Favorite fast-food fixes?
No fast food! I watched a documentary called Food Inc., and I can never eat fast food again. Watch it. You won't either.
How do you feel about cleanses?
It takes super discipline and you have to make sure your doing it correctly, but I like them.
How do you de-stress?
Massage, meditate, read, or go out and shake it off.
Additional reporting by Loni Albert.
Pick up the OK! on newsstands now to get more of Alicia's body secrets. The cover line is "Ali & Jake's Secret Reunion." And, catch Alicia on her world tour, which will parade around the globe through June.