NEWS
Alicia Silverstone on Brittany: "I Hope She is at Peace"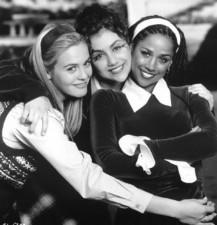 Stars continue to express condolences over the untimely loss of actress Brittany Murphy at age 32. Alicia Silverstone, Brittany's co-star in the 1995 hit Clueless, communicated her sadness about her friend with whom she shared many happy memories. "I always felt connected to her as we shared a very special experience in our lives together," Alicia said in a statement to Access Hollywood, hours after news broke that Brittany had died yesterday morning.
Article continues below advertisement
"I feel love in my heart for her — and hope she is at peace. This is truly sad."
Even though Alicia and Brittany parted after Clueless and "didn't stay in close touch over the years," Alicia really enjoyed working with  her.
"I loved working with Brittany," she told Access. "She was so talented, so warm and so sweet."
OK! has been keeping updates on stars' reactions to Brittany's sudden death, with many celebs turning to their Twitter pages with sympathy messages.
Mena Suvari, Brittany's co-star in the 2002 film Spun, Tweeted she was shocked by the news.
"I'm just sooo devastated now. Found out Brittany Murphy died earlier this morning & I'm shocked. We worked together & I knew her for yrs."
Denise Richards Tweeted:
"Brittany Murphy was in Drop Dead Gorgeous with me and was the sweetest and most adorable.Tragic, sad & Devastating. Her poor family."
Frankie Muniz posted, "An old friend, Brittany Murphy has died this morning. RIP.. What a year…"
Article continues below advertisement
Iron Chef star Mark Dacascos shared his fond memories of working with the starlet.
"I worked with Brittany Murphy in 1996," Mark Tweeted. "She was 18 years-old and a bundle of positive energy. She was a joy to be around, brought smiles to everyone on set. We were amazed at how talented she was. She was refreshing and unique. She was inspired and inspiring. My deepest condolences to the Murphy Family. Brittany Murphy, thank you for sharing your gifts. May you rest in peace."
Even celebs who did not work with Brittany turned to their Twitter pages to express their grief.
"Wow I am shocked about the news! RIP Brittany Murphy. My heart goes out to you and your family," Dancing with the Stars Cheryl Burke Tweeted.
"OMG RIP BRITTANY MURPHY!!!! She was one of the nicest celebs ive ever met..so sad!!!!!" Tweeted new mom Kendra Wilkinson.