NEWS
Alicia Silverstone is Way Harsh About Meat-Eaters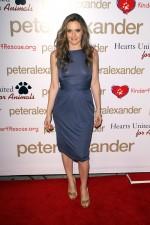 Alicia Silverstone is on a mission: She wants to convert the world to a vegan diet with her new book, The Kind Diet: A Simple Guide to Feeling Great, Losing Weight and Saving the Planet.
What's high on her list of foodie foes?
"Remember, dairy was designed to make little baby calves turn into 400 pound cows, so that's what it does to you," she revealed at her NYC launch party Oct. 9. "It makes you fat."
Article continues below advertisement
"The truth is, there is a list of foods that will make you fat and make you sick and hurt you and make you older and tired and slowly deteriorate."
"A vegan diet, on the other hand," the Clueless star, 33, explains, "will nourish you and make you vibrant and feel your best."
And Alicia, who's married to vegan rocker Christopher Jarecki, gets to the bottom of her dietary regime.
"Most people aren't pooing," Alicia says. "I know two girls in my life who are good friends, who were not pooing, but now they're pooing 'cause I helped them. I taught them how to poo."