NEWS
All Access to the Breaking Dawn Set — Just an eBay Bid Away!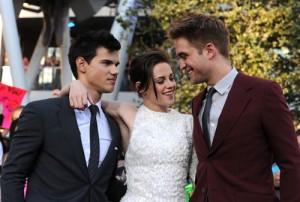 Imagine being on the Breaking Dawn set with Robert Pattinson, Kristen Stewart and Taylor Lautner? While hanging out with the Twi-fecta may sound like some kind of a hoax, you're not dreaming. This experience can be yours, if you are willing to dish up the dough!
An auction for a set visit to Breaking Dawn began on eBay yesterday at 4 p.m. and at nine days, five hours and 18 minutes left the bid was already up to $6,600.
Article continues below advertisement
Proceeds benefit Stand Up to Cancer, the organization that works to speed up the research and approval of cancer treatments.
The eBay ad reads:
Be a part of a one-of-a-kind, "never been done before" experience when you and a guest take part in a visit to the set The Twilight Saga: Breaking Dawn in Vancouver! Winner will receive two FIRST CLASS tickets from anywhere Virgin America flies plus VIP car service from Seattle to Vancouver. Experience first-hand the biggest pop culture phenomenon of the decade as you and a guest spend a day on the set. Breaking Dawn is the fourth installment in the Twilight Saga franchise, based on the popular, best-selling novels by Stephenie Meyer. Breaking Dawn is directed by Bill Condon and stars Kristen Stewart, Robert Pattinson, Taylor Lautner, and Dakota Fanning.
While there is no mention of one-on-one time with the stars, the memories from set will last a lifetime!