NEWS
'All My Children' & 'One Life to Live' Axed by ABC; Stars Tweet Sadness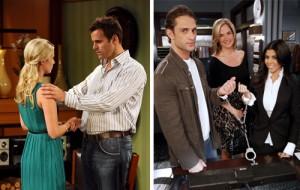 ABC has put a rest to the rumors and officially announced the network's decision to cancel two of their most popular soap operas after over 40 years on the air — All My Children and One Life to Live.
"Guided by extensive research into what today's daytime viewers want and the changing viewing patterns of the audience, ABC is evolving the face of daytime television with the launch of two new shows," ABC released today in a statement.
Article continues below advertisement
AMC has been on the air since 1970, and OLTL made its ABC network debut in 1968.
Now ABC is home to only one soap — General Hospital.
The replacement shows will focus on health and food, the statement added.
"While we are excited about our new shows and the shift in our business, I can't help but recognize how bittersweet the change is," said ABC Daytime President Brian Frons said via Entertainment Weekly. "We are taking this bold step to expand our business because viewers are looking for different types of programming these days. They are telling us there is room for informative, authentic and fun shows that are relatable, offer a wide variety of opinions and focus on 'real life' takeaways. A perfect example of this is The View, and that factored into our decision. The Chew and The Revolution are in the same vein and will be great additions to the lineup, with The View serving as an ideal foundation from which to launch these programs. They will also provide enormous opportunity for the creation of ancillary businesses and growth."
Needless to say, Hollywood is saddened by the loss of these two shows.
Daytime talk show host Kelly Ripa, who started her career on the set of AMC, Tweeted, "Sad day," followed by, "The cancelation of AMC and OLTL. Very sad day for me. #lovethoseshows"
Kelly also has the show to thank for introducing her to her hubby, fellow soap star Mark Consuelos, whom she has three children with.
Article continues below advertisement
Comic Rainn Wilson had his start on OLTL.
"RIP "One Life to Live". The show that gave me my 1st TV gig. 1997. Casey Keegan, homicidal stand-up comic. #truestory" .
Actress Marlee Matlin Tweeted: "Who imagined that the Welcome to Pine Valley sign would ever come down? All My Children axed. Goodbye, Erica Kane. You were GREAT."
She followed up with, "I remember how excited I was to meet Ruth Warwick, aka Phoebe Tyler and Susan Lucci, THE Erica Kane. Wonderful AMC memories."
Kourtney Kardashian just made her acting debut on the show at the end of March.
"This was my acting debut and I was so nervous to start filming, but it went really well and I had a great time on set with the cast," she wrote on her blog of her experience. "I've always been a huge fan of the show, so it was such an amazing opportunity to have a character created for me."