NEWS
All Together Now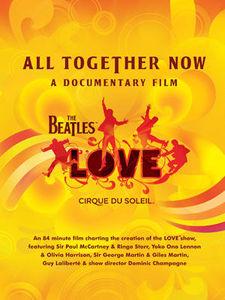 (Apple Corps Ltd./Cirque du Soleil)
The Beatles get the Cirque du Soleil treatment with the feature-length documentary All Together Now-a never before seen look inside the making of the Las Vegas stage production, Love. The Adrian Wills documentary is a breathtaking behind the scenes look at the shows inception in Montreal to opening night at The Mirage in Las Vegas. Interviews with Paul McCartney, Ringo Starr, Sir George Martin, Yoko One and Olivia Harrison make this a can't miss. The DVD is available now exclusively at Best Buy.
Article continues below advertisement
http://www.beatles.com/core/love/documentary/
DVD contents
* 'All Together Now' documentary (84:00)
* Bonus Features:
* "Changing The Music" (22:00): An in-depth look at the decision to rework and remix the Beatles music for the show
* "Music In The Theatre" (09:00): A look at the process of creating the LOVE show's unique audio design in the theater
* "Making 'LOVE'" (10:00): A backstage pass to explore the design of "LOVE," including the art direction, costumes, props, screen imagery and the use of The Beatles' voices in the stage production and soundtrack.