NEWS
Alleged Britney Stalker Says it Was a Joke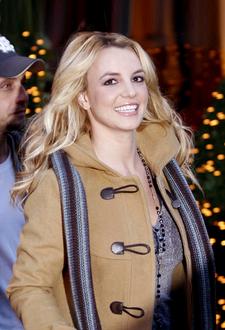 File this under "yeah right": The woman arrested by police yesterday outside Britney Spears' home peering into her windows with a video camera, Miranda Tozier-Robbins, says the whole thing was a joke.
"The whole thing — it was all a joke in the beginning, everybody knew about it," Tozier-Robbins, 26 tells Access Hollywood. "It was supposed to be like a 'Paparazzi 101' documentary type deal."
Despite being clothed in a camouflage outfit, she says she decided to trespass on Brit's Calabasas, Calif. property on the spur of the moment.
Article continues below advertisement
"What originally was supposed to happen was, I was going to tape whatever I could get. I would be like, far away doing a stakeout," Tozier-Robbins told host Billy Bush. "It didn't work out as planned, so when I was already halfway there in the mountains around Britney's home, it was already Wednesday night/Thursday morning ... I already knew Britney herself wouldn't be there, but it's like, I came that far, I might as well go see the house, at least get the house on tape, because I know people would be interested in seeing stuff like that."
Oh sure, might as well!
"It's a once in a lifetime opportunity, you understand? She's coming through on the tour, on the stop, it's like take your chance. Take the opportunity, do it," she laughed.
Laughing, that's a good one! We're sure the judge will accept that.
Even if the whole thing was a "joke," Tozier-Robbins is just fine with being called a stalker.
"Yeah, sure. That would be a fair term to use. Tracking, stalking, whatever, for a couple weeks long," she said. "It wasn't really stalking her, it was more plotting out how to get to her house."
And the difference is...?
According to reports, Tozier-Robbins auditioned for American Idol in the past, and one time sang Brit's song "Everytime." Cue the creepy music.