NEWS
Alleged Mistress Claims Tiger Woods Swings Both Ways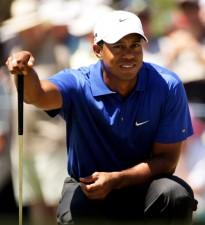 The Tiger Woods scandal keeps getting messier. A new report details claims from one of Tiger's alleged mistresses, who is in the process of writing a tell-all book revealing very personal information about the pro golfer. Loredana Jolie Ferriolo claimed she saw Tiger having sexual relationships with other men, Radar Online reports.
To date, no other Tiger mistress has claimed the golfer swings both ways.
Article continues below advertisement
Loredana's first attempt to sell her story for a whopping $1 million failed, leaving her no other choice than to write down her triumphs and tribulations in a book (which probably won't make any bestseller's list).
According to Radar Online, Loredana graphically described group sex that included incidents of Tiger with other men.
The Sicilian stunner said she is planning to divulge all on how her relationship with Tiger "came about, his healthy appetite for arranged sex, threesomes, girls next door, girl-girl, and an answer to all the rumors surrounding Woods' sexuality."
Loredana is banking that her new insight into Tiger's scandalous past will land her a seven-figure deal.
One of her Loredana's reps told Radar Online: "She is in talks with a number of publishing companies regarding a tell-all book deal."
Recently, Loredana is trying to keep a "low public profile" and has been spotted at an upscale Florida country club on the golf course, taking golf lessons.