NEWS
Alleged Tiger Mistress Apartment Hunting in NYC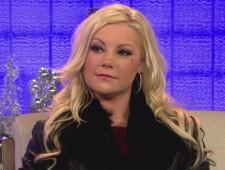 Jamie Jungers, a Las Vegas underwear model who claims to be Tiger Woods' fourth mistress, may soon be moving to the Big Apple, The Real Deal Online reports. "With all the things that have happened, it's probably in my best interest to move up here," she told The Real Deal. Moving to NYC would allow Jamie, 26, to pursue her passion for modeling; however, she has not decided whether or not to give up her Las Vegas home.
Article continues below advertisement
As for apartment hunting, Jamie is looking at a 750-square-foot, one-bedroom apartment at One Irving Place, also known as Zeckendorf Towers, owned by Elie Hirschfeld, CEO of Hirschfeld Properties, according to The Real Deal Online. The unit rents for $3,000, and Jamie plans to live on her own with close friends nearby.
She said she has been "bombarded" with calls from real estate agents.
"My phone has not stopped ringing," Jamie said, but confirmed she is not working with an agent at this time.
Hirschfeld declined to comment about the prospective renter.
"We cannot comment on people who look at our apartments. We value the privacy of our tenants," Hirschfeld said.
Jamie spoke with Meredith Vieira last Friday on NBC's Today show. Jamie revealed her true feelings for the pro golfer and emphatically denied rumors that she has worked as an escort and used money from Tiger to pay for liposuction.
"I didn't even get a birthday card," Jamie, 26, told Meredith in the intimate interview. "I got nothing out of this relationship but a broken heart."
Jamie also revealed that she and the 33-year-old golfer had what she considered "a boyfriend-girlfriend relationship" during their year-and-a-half love affair, regardless of the fact that Tiger had just married wife Elin Nordegren when Jamie and Tiger spent their first night together in early 2005.