NEWS
Is Allen A Lil' Desperate?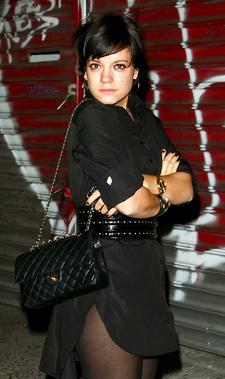 Jeez Lily, did you ever hear of playing it cool?
The Fear singer Lily Allen has just heard that her new album, It's Not Me, It's You might sell enough copies to be number one on the Billboard 200 album chart this week.
And instead of booking Chateau Marmont for a party, or ordering few cases of Cristal, Lily wrote a blog begging (yes begging) her fans to buy her album and send it to the top.
"I've never had a number one album in England, never mind the US, and all of this is a bit crazy," she wrote today on her MySpace page.
Article continues below advertisement
"I could well be up for no 1 here (America), which makes me want to cry a bit . I've never begged you to buy from me ever, but I am now.
This will be the only time ever in my life that this could happen for me."
Now that you've got the music-making bit nailed, Lily, you need to start working on your rock star poise.
We can't imagine that the week before Thriller was released, Michael Jackson was scribbling out notes like that to his fan club's mailing list.