NEWS
Allison Iraheta Lands Record Deal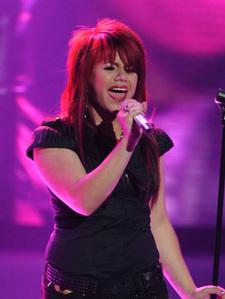 Record labels are racing to sign up finalists from the recently completed eighth season of American Idol. Not surprisingly, the first two artists to land contracts were the top two finishers, Kris Allen and Adam Lambert. And now comes news that fourth-place finisher, teenager Allison Iraheta, has inked a deal.
According to <a href="http://hollywoodinsider.ew.com/2009/06/exclusive-american-idol-alum-allison-iraheta-officially-signed-to-19jive.html" target="_blank">EW.com</a>, this season's highest-placing female contestant has been signed by 19 Recordings and Jive Records, who plan to have her debut CD available for sale in the fall.
Article continues below advertisement
When <em>OK</em>! spoke to Allison after her elimination, she talked about her plans to maintain grounded and not let the sudden fame go to her head. "I guess it's all up to me," she admitted. "When people get out there and you get noticed, people know who you are. Some people start changing and think, oh I'm a better person. I feel I'm definitely going to do well with that because I'm going to stay true to myself.
While this is good news for Allison, it doesn't bode well for third-place finisher Danny Gokey, who has yet to announce a deal.
Surely all the finalists will be discussing details of their deals when they hit the road this summer for the annual American Idol tour.