NEWS
Alyson Hannigan to Jen Aniston: Please Guest Star on 'How I Met Your Mother!'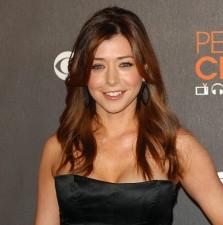 Carrie Underwood may be the next big guest star on How I Met Your Mother, but cast member Alyson Hannigan has a different dream cameo in mind — Jennifer Aniston!
"I'm going to put that out there!" she told Extra about how she'd like to see Jen make an appearance on the show.
Alyson's co-star Cobie Smulders also has a celeb in mind with whom she'd love to film. "If Meryl's free, that'd be nice," Cobie joked.
Article continues below advertisement
Previous guest stars on the show have included Britney Spears, Kim Kardashian and Wayne Brady.
"I love having guest stars, but I love when they cast people who are up-and-coming and need a break," Cobie added.
An example is when Rachelle Lefevre appeared on an episode playing a girl who falls for Neil Patrick Harris' character Barney before she landed her role as Victoria in Twilight.
"We like the people who come on the show and really play on the show," Neil said. He added that he's "excited" for Carrie to be on the show, but "it's hard to top the Victoria's Secret supermodels for Barney because he had a whole episode with them and Heidi Klum."
How I Met Your Mother celebrated its 100th episode on Thursday at the Paley Center for Media in Beverly Hills.
Alyson just won a People's Choice Award for her role and said, "I'm so lucky to be on two shows that have reach a hundred episodes." Alyson's also reached over 100 episodes with Buffy the Vampire Slayer.
HIMYM's 100th episode airs Monday, Jan. 11 on CBS.