NEWS
Alyson Hannigan Talks 'American Reunion': "I Haven't Met My Child Yet"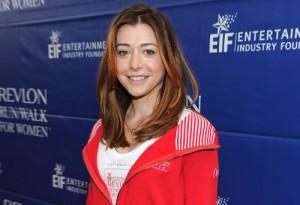 Filming for American Reunion is underway and Alyson Hannigan is still shocked that she's even back on the set. She's played the high school role, college role, marriage role and now she's preparing to play the mother role for the hit franchise.
OK! GALLERY: ALYSON HANNIGAN SPENDS A SUNNY SUNDAY IN L.A. WITH SATYANA
"With the first one, they had put some sort of sequel clause in my contract and I was like, 'Ahh, I wouldn't be in a sequel,' " she said with a laugh to The Huffington Post. " 'There's no way. My character leaves at the end of the movie, so even if there was a sequel, I wouldn't be in it.' And here we are."
Article continues below advertisement
And now, Alyson is on set in Atlanta with Jason Biggs preparing to play parents in the film.
"I haven't met my child yet for the film but I'll meet him today. I hope he likes me and I hope my daughter doesn't get jealous that I'm holding some other kid. I'll have some explaining to do," she said. "Like, 'Why is that kid calling you Mommy?' I don't know how old the actor kid is, but he's playing 2, and my daughter's 2, so they're probably in the same ballpark. I'm hoping they're in the same weight category, because I'm only just holding my daughter, who is 25 pounds. If he's much heavier, I could struggle."
OK! NEWS: SEAN WILLIAM SCOTT SIGNED ON TO AMERICAN PIE DESPITE REHAB
But Alyson is very happy to be back and reunited with her cast/friends.
"It's really true to how real life would be, where everybody, they've all gone in different directions, but of course when you get back together again, it's as if no time has passed,"Alyson explained. "You'll be able to catch up with all the characters, see what they're doing, where are they now — it's as if no time has passed when they all come back together. It's my second day of shooting, but already it's been such a blast and I can tell it's going to be really, really funny."
And the chemistry is better than ever!
"It's fantastic. There's such a fantastic chemistry among this group and it certainly has not diminished at all," she said. "If anything I think it has sort of gotten better because we all have this sort of common thread of here is this little movie that became this gigantic franchise, so it's been really, really fun to be a part of."