NEWS
Alyssa Milano Gives Birth to Baby Boy Milo Thomas!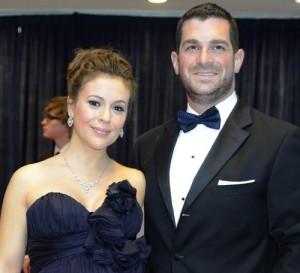 Alyssa Milano is a mom! The 38-year-old actress and her husband, agent David Bugliari, welcomed son Milo Thomas this morning!
"Alyssa and her husband, agent David Bugliari proudly announce the birth of their son, Milo Thomas Bugliari," her rep told OK! in a statement. "Milo Thomas was born on August 31st at 9:27AM weighing 7 pounds and was 19 inches long."
Article continues below advertisement
Alyssa also turned to her Twitter to thank everyone for all the well wishes on their bundle of joy.
"Thank you for all the well wishes for my son Milo. My heart has tripled in size. I love him more than all the leaves on all the trees," she Tweeted.
Alyssa and David married in 2009 and this is the first baby for the couple.
When OK! chatted with Alyssa earlier this year, she said she felt like she was having a son.
"I've been calling him a 'he' since the very beginning, so I don't know if it's prophetic or what, but plus, like, all the baby books that you read, they're very specific on the gender," the actress revealed. "They either call, like 'What to Expect', I think calls it all' she' and then there's the 'My Little Clinic' book, yeah they say 'he.' "
Alyssa was busy working on set of New Years Eve while pregnant, but you won't be seeing her baby bump on the big screen.
"Well, I'm in scrubs so you can't see anything in scrubs," she told OK!.
Congratulations to the new parents!