NEWS
Amanda Bynes Defends Herself on Twitter About Weekend Drama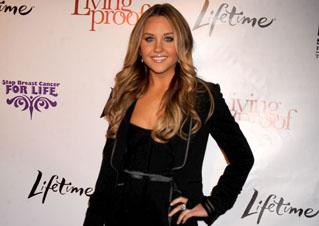 Wigspiration
Once photos were released of Amanda's arrest, the star joked with her Twitter followers about getting a new wig stylist.
Article continues below advertisement
Truth Talk
With all the rumors swirling around, Amanda tweeted to fans Sunday telling them to ignore what the media is saying and to only believe what she says on Twitter.
Twitter Feud With Rihanna
On Sunday, "@rihanna Chris brown beat you because you're not pretty enough" was sent out from Amanda's Twitter account. It was followed by a second message of, "@rihanna no one wants to be your lover so you call everyone and their mother that I almost named by new dog Rihanna." Both tweets were taken down shortly after, but that didn't stop Rihanna from responding back.
After, another tweet was sent from Amanda's account that said, "@rihanna unlike ur fugly faced self I don't do drugs! U need the intervention dog! I met ur ugly face in person! U aren't pretty u know it!"
Mistaken Arrest and Music Career Announcement
From her mistaken arrest to her new music career, Amanda filled fans in Monday on all the latest rumors.
Love From Waka Flocka
Amanda is already receiving support from musicians like Waka Flocka about her career change from an actress to a rapper.
Article continues below advertisement
Mocked Tweets
In response to a fan, Amanda explained that the tweets to Rihanna were doctored images. She continued by talking about rehab, Rihanna's lifestyle and her upcoming court date.
Drake Bell Shows Support
The Amanda Show actor showed love for his co-star on Twitter with a sweet message checking in.
What do you think about the drama surrounding Amanda Bynes? Let us know in the comments below and tweet us @OKMagazine!